At the halfway point of IMSA's 26th Annual Motul Petit Le Mans 10-hour race at Road Atlanta, the No. 62 Risi Competizione Ferrari 296 GT3 is in hird position in the GTD Pro class.
Daniel Serra was the starting driver, having qualified the car in the fifth position in class. He drove through three caution periods before the Risi Competizione engineers called him to the pits for his first pit stop, while in P2, nearly an hour and 25 minutes into the 10-hour race.
David Rigon was then put in the car to drive through two more full course caution periods and for about an hour and 35 minutes. The Risi team was assessed a drive through penalty for "working outside pit box", when car was slightly over pit space allocation during the stop between Serra and Rigon, sending Rigon to P7 in class after serving the penalty.
About an hour and 12 minutes later the 2023 24 Hours of Le Mans winner, Alessandro Pier Guidi, became the driver of the No. 62 Prancing Horse.
At the five-hour mark, the 52-car field has already had six full course caution periods due to incidents on track, which has required several retirements from the race.
A 20-kilo weight addition was rendered to the Ferrari 296 GT3 as part of IMSA's Petit Le Mans GTD Pro class Balance of Performance (BOP) and which the drivers have in part faulted for the lack of straight-line speed. This is the new Ferrari 296 GT3's first appearance at the 2.54-mile, 12-turn Road Atlanta road course.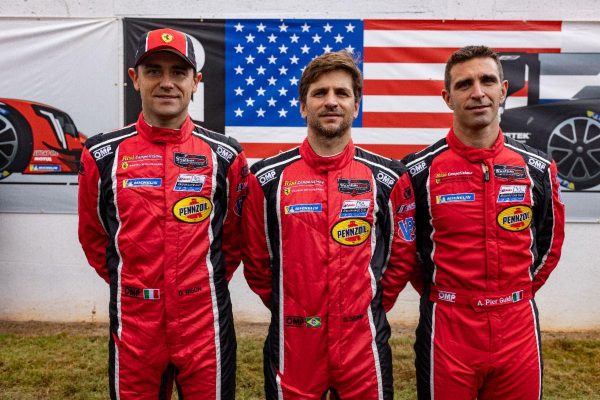 Daniel Serra, qualifying and starting driver No. 62 Risi Competizione Ferrari 296 GT3:
"During my stint we gained some positions on track. We were able to go between classes. Unfortunately, it's hard to fight other cars on the straight because we are missing a lot of corner exit. We lost some position on the pit stop as well. It is very tight in the pits with so many cars."
Davide Rigon, driver No. 62 Risi Competizione Ferrari 296 GT3:
"My double stint was fine. The car is good in regard that I like the balance of the car. As we saw in practice, we have no straight-line speed, so it's difficult for us to overtake and recover. There is a lot of traffic and actually it is quite dangerous and many cautions already.

"It's still a very long race and we're going to do our best. I think we still have a good chance for a podium although it's very tough, but if we keep up with our strategy and with this good team that knows how to manage this, hopefully we can see the podium."
Alessandro Pier Guidi, driver No. 62 Risi Competizione Ferrari 296 GT3:
"We are struggling with straight-line speed so it's nearly impossible to get around anyone. There are many incidents and on track issues with this large field. We just have to race with what we have today."
Catch the U.S. broadcast of the race on USA Network live starting at 6:30 p.m. Eastern. Also live flag-to-flag coverage is found on Peacock or outside the U.S. on IMSA.com/TVLive.
IMSA Radio live coverage is on imsa.com, RadioLeMans.com and SiriusXM Radio. See imsa.com for live timing and scoring.