The 71st annual Mobil 1 Twelve Hours of Sebring IMSA WeatherTech SportsCar Championship race got underway at 10:10 a.m. local time this morning at Sebring International Raceway. The No. 62 Risi Competizione Ferrari 296 GT3 GTD Pro team started from the fourth position in class and 30th overall in the field of 53 cars with five classes.
Brazilian Daniel Serra was the Risi qualifying driver yesterday and starting driver this morning. He and teammate Italian Davide Rigon raced in yesterday's FIA World Endurance Championship (WEC) 8-hour race in separate Ferrari GTE-Am teams. Serra and teammates captured a podium, finishing third in class, and Rigon was fifth in the Ferrari 488 GTE Evo. There was little rest for the Ferrari Competizioni GT factory drivers as they were both back in the cockpit of the Risi Prancing Horse this morning.
Risi Competizione newcomer Brazilian Gabriel Casagrande made his inaugural appearance in the Ferrari 296 GT3 at the legendary 17-turn Sebring circuit two days ago. He drove his first race stint about three hours and 25 minutes into the race after Serra and Rigon each ran their initial stints.
The No. 62 Risi Ferrari managed to stay in the top four in class nearly all of the first half of the once-around-the-clock enduro and led numerous laps. There have been four full course cautions in the first six hours under dry and hot conditions.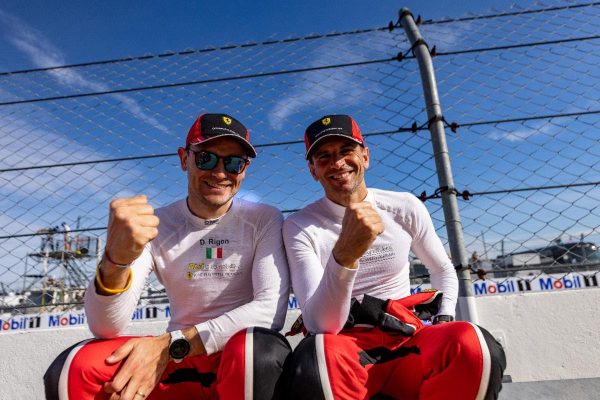 Daniel Serra, starting driver, No. 62 Risi Competizione Ferrari 296 GT3:
"There was not a lot to do in the first stint. I was behind the Lexus and it's quite difficult to fight them. We don't have the power in the corner exit like the Lexus and it's quite difficult when we are behind someone there was a lot of soft grip. So, it was more about saving fuel and bringing the car to Davide."
Davide Rigon, driver, No. 62 Risi Competizione Ferrari 296 GT3:
"It was one stint and a half because due to the full course yellow. It's gone pretty well and especially when we're alone we have good balance, although there is a bit of understeering. The problem is when we're in traffic, and trying to overtake, even a lapped car. We are losing so much time, it's embarrassing. We're slow on the straight line and it's cost us a lot. It's very difficult to make a move because we are starting from so far. But, let's look at the positive – we have a good car with good balance. The team did a superb job with the strategy. We are doing a lot of crusading to improve our strategy for the end of the race and it's looking good, but let's see…. it's still very long to the finish."
Gabriel Casagrande, driver, No. 62 Risi Competizione Ferrari 296 GT3:
"I'm not so happy because my pace was not good. It was really good to have the first race experience here and I'm looking forward to being back in the car and try to improve. That's my goal here is just to deliver the car. I know how endurance races work and we have to get to the end. So most importantly is to have our car good and in one part so the guys can fight for positions."
Television: Flag-to-flag live network coverage of the Mobil 1 Twelve Hours of Sebring is on USA Network for the final six hours of the race today from 4:30 to 10:30 p.m. ET. You can also catch it on IMSA.tv and Peacock.
Radio: IMSA Radio is live for the entire race on IMSA.com. Also see imsa.com for live timing and scoring. Visit www.IMSA.com for more information.