The No. 62 Risi Competizione kept to their game plan and brought the Ferrari 296 GT3 to the checkered flag in the sixth position in the GTD Pro class with drivers Daniel Serra, Davide Rigon and Gabriel Casagrande.
The 71st annual Mobil 1 Twelve Hours of Sebring IMSA WeatherTech SportsCar Championship race saw 12 cautions and exhilarating, action-packed racing over the 12 hours at the 3.74-mile, 17-turn central Florida road course.
Brazilian Daniel Serra was the starting driver from the fourth position in the GTD Pro class and 53-car field for the Houston, Texas-based team. Cautions played a big part in the race as numerous cars found their way off course, which tended to make the track slippery and brought out the many cautions. The Risi Competizione team kept to their strategy and generally stayed out of trouble in a race full of mishaps.
Risi Ferrari team and Sebring newcomer Brazilian Gabriel Casagrande drove a respectable stint and accomplished his drive time minimum as planned. The team strategy was to utilize the two Ferrari Competizioni GT factory drivers to their fullest. After racing in yesterday's FIA WEC 8-hour race, they were well tuned to the challenging Sebring circuit and its conditions this weekend.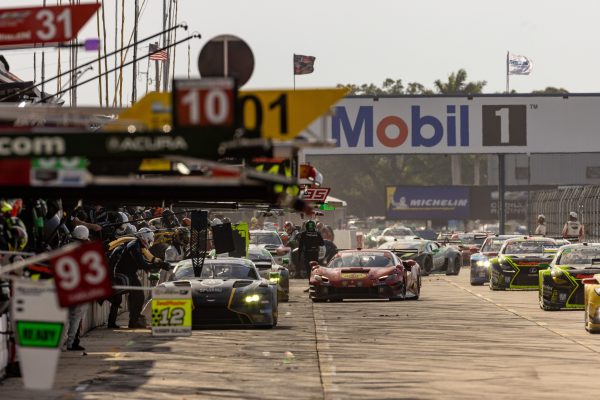 DRIVER QUOTES:
Daniel Serra, driver, No. 62 Risi Competizione Ferrari 296 GT3:
"Unfortunately it is not the end we were expecting. We were there, fighting for the podium, but unfortunately a prototype put me out on corner 3. I don't know what happened. I saw the images I know it was a prototype who bumped me in the back and then I spun and that's it. Anyway, now we have to think about Watkins Glen, see what we can do better. I hope to have a better BoP [balance of performance] as well. It's still a little bit far from the others in terms of weight and power so, I don't know… let's see what they do for the next races.

"For sure we are closer, but not close enough. If you compare with Corvette or Mercedes, they're flying compared to us. They're on a different level. I was able to fight with them and see what the difference is. IMSA usually do a good job, so let's see what they do for the next race."
Davide Rigon, driver, No. 62 Risi Competizione Ferrari 296 GT3: (being edited by Luca)
"Actually, through the race we were pretty fast, good pace, good strategy, nothing to say. The team did an amazing job to prepare the car, and Ferrari did a big improvement from Daytona, so we are just very happy about our car. The balance [of the car] was very nice and it was a pleasure to drive this car during the race. [In the] last stint you win or you lose, and we were unlucky at the end. We got hit by a prototype and that's it. We could have arrived at the podium this time, but we will continue to push with Risi and Ferrari to improve our car. Let's see if we can win at least one race this year."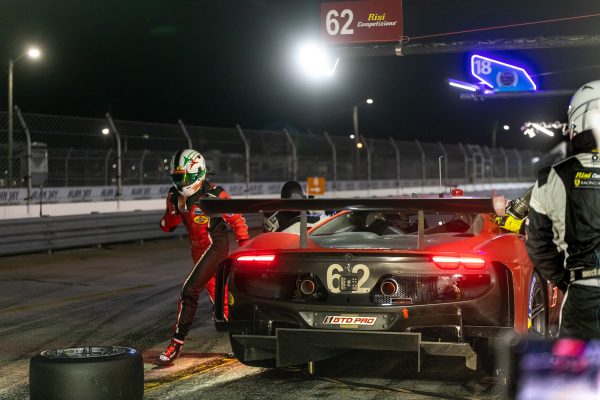 Gabriel Casagrande, driver, No. 62 Risi Competizione Ferrari 296 GT3:
"It's not the end we expected, but we were cheering for Daniel at the end. We thought we could maybe fight for the podium. It was a nice experience for me. I'm glad to have been here and helped Daniel and Davide with the car. And to bring the car home in one piece was my target here. I'm thankful for this opportunity and really a huge thank you to Mr. Risi, Anna and the team. I hope to back."
Rick Mayer, Risi Competizione Race Engineer:
"It certainly was a rough weekend. Sebring is always a difficult place to come with a new car and this was no exception. I think we improved it during the three practices we had on Thursday and got the car better. We made it the best we could, but we just didn't have the pace in the race to be competitive. There were some issues with the clutch that caused us some problems in the pits inevitably and took us out of a podium. Gabriel was new with us this weekend. He got up to speed rather quickly and I think he'll do good in the future. We were hoping for a podium finish, but we'll recoup, make some changes and be ready for Watkins Glen."
Points for the IMSA Michelin Endurance Cup (IMEC) Championship will be tabulated in the coming days and officially announced by IMSA.
The next scheduled race for the Risi Competizione GTD Pro team is Sahlens' Six Hours of the Glen at Watkins Glen International in upstate New York on July 2, round three of the IMEC championship.